Employee Spotlight: Augusto Di Battista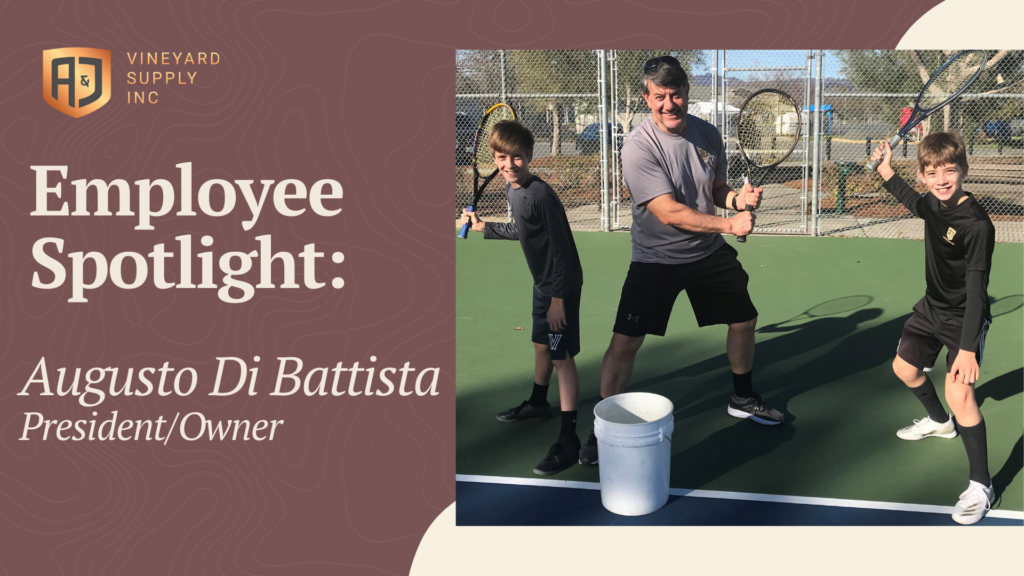 A&J Vineyard Supply's Employee Spotlight series highlights a different employee every month, offering an inside look into our company culture and the individuals that make our team the best in the business. This month, meet Augusto Di Battista, President and Owner of A&J Vineyard Supply!
Name: Augusto Di Battista aka "el jefe"
Role at A&J? President/Owner
How long have you been working at A&J? Since A&J's inception in 2002
Q: What's your favorite thing/activity to do in the Napa Valley?
Augusto: "I like playing tennis and working on soccer training with the kids. Also enjoying a nice glass of wine in my backyard."
Q: What's the most interesting trip you've ever taken? When?
Augusto: "When I was in Middle School in Italy, we went on a class trip to visit a Steel Mill/ Manufacturer in Taranto (Puglia). I was mesmerized by the equipment and the processes."
Q: If you could recommend one vineyard tool or product, what would it be and why?
Augusto: "A forklift with a good operator!"
Q: What do you like best about working for A&J Vineyard Supply?
Augusto: "The owners and the employees are a team and a family. I also appreciate how much everyone knows about the products and how kind they are to customers."
Q: What's a work-related accomplishment that you're really proud of?
Augusto: "As an owner, it makes me feel proud that we have several long-term employees who have stayed with us for 8, 12, even 15 years. We've also worked really hard to never lay anyone off during the slow seasons or in years of economic downturn."
Q: What's the best advice you were ever given in your life? Who was it from?
Augusto: "As a young man, my father would often say "Fatti furbo, che fesso gia' ci sei", the intention of which means "none of us is born knowing how to do everything, so you have to work hard to become smarter". In other words, pay attention and think hard about what you're doing and learning so things will be easier and the end result will be better with fewer attempts."
Q: Who is your favorite soccer team? Who do you think is the best player of all time?
Augusto: "My favorite team has always been Juventus (Serie A) and of course, the Italian National Team.  Since coming to the US in 1997, it's been exciting to watch the development of soccer in this country and also cheer for the USA National teams.
There have been so many great players in my lifetime, but I guess I would say Michel Platini' from France as a Play-maker and Gianluigi "Gigi" Buffon from Italy as Keeper, are two of my all-time favorites."