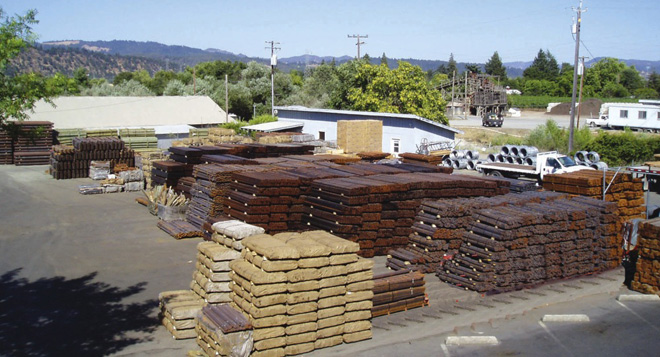 Building a vineyard may seem simple, but there are many factors to consider when deciding what trellis system and vineyard equipment are going to be best to achieve your goals. Whether you are focused on production or aesthetics or both, choosing the right line stakes, vineyard end posts and accessories can make all the difference. Below you will find descriptions and useful information for each category of supplies to make those choices easier.
When attached to T-Posts, Vertical Line Posts and Steel & Wood Grape Stakes, crossarms provide the ability to open up the canopy, allowing more light and air to enter the fruit zone. Multiple options in style, length and thickness allow for perfect integration with many different systems and varietals. Another option in this category is the Welded Open Lyre which is produced in house and installs with a single bolt.
Ogger-style anchor used in end-row assembly for additional support in loose soil. Double welded helix ensures integrity and holding power. Combine with gripple-cable system for a clean tie-back.
Integral for the overall strength of the vineyard row, the end post is an important consideration in vineyard planning. Steel end posts are the most popular due to their durability and longevity. Steel spades can be welded or bolted (depending on the style) to the bottom of the post for extra resistance under the soil.
Get your erosion control orders in early to avoid the post-harvest rush! Wheat & Rice Straw, Wattles & Jute Netting are all available from A&J Vineyard Supply for seasonal delivery. Irrigation is available year-round and includes Poly Drip Tube and Fittings, as well as the Deep Root Irrigation system.
While our focus has traditionally been on trellising, we continue to expand our fencing line to include a full range of products; Deer & Rabbit, Field & Non-Climb Fence, Barbed Wire, Staples, & Fence Post Cement to name a few. And for pre-harvest bird control, give us a call for all your netting needs. From woven to extruded, full coverage to side net, we've got you "covered".
The most common item in this category is a T-Post; available in numerous different sizes, weight combinations, from extra-lightweight (.85 lbs per foot) to extra heavyweight (1.33 lbs per foot), and from 4′ to 10′ in length. We also carry wood grape stakes and hot-rolled steel grapestakes.
In addition to the year-round necessities, we do our best to make sure you are covered for those seasonal projects as well. For pruning season, we carry a full line of Shears, Loppers & Saws. And when harvest approaches, look to us for Picking Bins, Grape Knives, Olive Rakes, and many other items to make this hectic time of year a little more manageable.
Nothing makes your job easier than having the right tools. We stock a full line of specialty products such as Gripple Tools, Crimp Tools, Shovels & Wire Cutters. We also carry a variety of gloves and safety glasses, sure to fit your crews' needs.
Used for intermediate support and vine training, the options in this category are also vast. From the most economical and organic farm-friendly bamboo, to steel pencil rods for slightly more durability, on up to cut rebar, necessary where rocky soils might prohibit the use of less substantial alternatives.
From Crossarms to Line Posts, Wire to Training Rods, End Posts to Anchors, we carry a full line of vineyard and olive orchard trellising products, in stock, ready for pick-up or delivery. With most items being available in multiple weights, lengths, and style, you are sure to find what you need, including the accompanying hardware and accessories. And for vineyards with special needs, ask about our welded open-lyre system which is produced in-house to your exact specifications.
Tie Tape, Binder Twine, Bull Rope & Twist Ties are always in plentiful supply at our Calistoga yard during tying season. You will also find several options for vine protection including 1/2 gallon milk cartons, 20″ V-Top Cartons & Poly Tubes in various lengths. And for vineyard and orchard lay-out, we carry economical plastic knives and straws that get the job done.
Also referred to as highway stakes, this product is the main component in the Vertical Shoot Positioning system. Available in several profiles, the basic premise of each being a built-in notch system for wire management that eliminates the need for additional hardware. The other advantage to this system is that in most cases, it is mechanical harvester friendly.
Vineyard Wire has many uses and also comes in several different sizes and configurations. The most common vineyard wire is hi-tensile and comes in varying thicknesses from 10 ga (thickest) to 14 ga (thinnest). 100 lb rolls are available in both catch coil and layer-wound styles, while continuous coils can be used for larger installations. A variety of pay-out spinners and wire connectors help finish the job.
End Posts, Grape Stakes & Training Stakes are all available in milled and hand-split wood. Pine & Cedar are the most common.