Customer Spotlight: Trevor DelBondio, Oak Knoll Farming Corporation
Service and quality are the top priorities for us here at A&J Vineyard Supply. As we head into our 22nd year in business, we've had the pleasure of working with some incredible customers and companies that have made delivering on that priority easy. In our new blog series—The A&J Customer Spotlight Series—our employees will highlight and celebrate some of those customers, sharing their job responsibilities, their favorite tools, and the ways in which A&J Vineyard Supply has been there for them over the years. 
To kick off the year, meet Trevor from Oak Knoll Farming Corporation!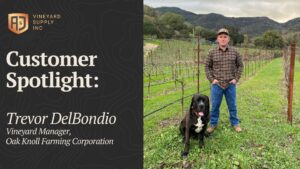 Name: Trevor DelBondio
Role/Title: Vineyard Manager
Company: Oak Knoll Farming Corporation
What's the best thing about your job?
The best part about my job is bringing my dog, Ruxel, to work with me.
What's the biggest challenge someone faces in your role?
The shortage of skilled labor.
What do you think sets your company apart or makes you unique?
Oak Knoll Farming focuses on farming privately owned, boutique vineyards.
Do you have a funny story/time A&J went above and beyond while working together?
A&J has the best customer service which is why I continuously order from them but a time they truly went above and beyond was when they baked a tiramisu for my wedding day. It was delicious and a wonderful personal touch to an important day.
What's one tool you couldn't live without?
My Felco pruning shears – they cut cable, string, wire, packing bands, drip hose, and occasionally grapevines.
When you're not working, what's your favorite thing to do in Napa Valley?
I enjoy eating at my favorite restaurants.