Employee Spotlight: Jose Zuniga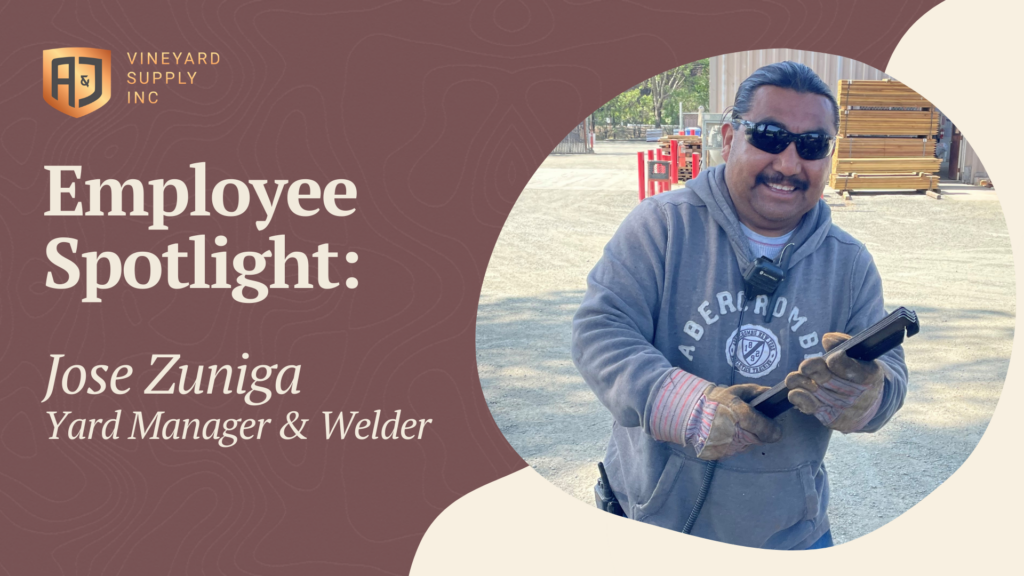 A&J Vineyard Supply's Employee Spotlight series highlights a different employee every month, offering an inside look into our company culture and the individuals that make our team the best in the business. This month, meet Jose Zuniga. As our Yard Manager ad Welder, Jose has been with A&J for 15 years!
Name: Jose Zuniga
Role at A&J? Yard manager & Welder
How long have you been working at A&J? 15 years
Q: What's your favorite thing/activity to do in the Napa Valley?
Jose: "Going for walks in the hills and parks of Napa."
Q: What's the most interesting trip you've ever taken? When?
Jose: "In 1999: A trip from Detroit, Michigan to Napa Valley. I came to visit and ended up staying to live here."

Q: If you could recommend one vineyard tool or product, what would it be and why?
Jose: "First – The Tie Fix Tool because I think it's a good tying tool. Second – Battery-operated pruning shears. When you use it you can see how strong a worker's hands need to be for manual pruning."
Q: What do you like best about working for A&J Vineyard Supply?
Jose: "Our teamwork system. It allows us to help customers well and also keep the yard clean and organized."
Q: What's a work-related accomplishment that you're really proud of?
Jose: "Being the person who shows new people coming into the company everything related to the job and the products we sell."
Q: What's the best advice you were ever given in your life? Who was it from?
Jose: "Never leave for tomorrow what you can do today."
Q: Who is your favorite soccer team? Who do you think is the best player of all time?
Jose: "My favorite team is Pumas and my favorite player is Hugo Sanchez!"