Employee Spotlight: Jennifer Di Battista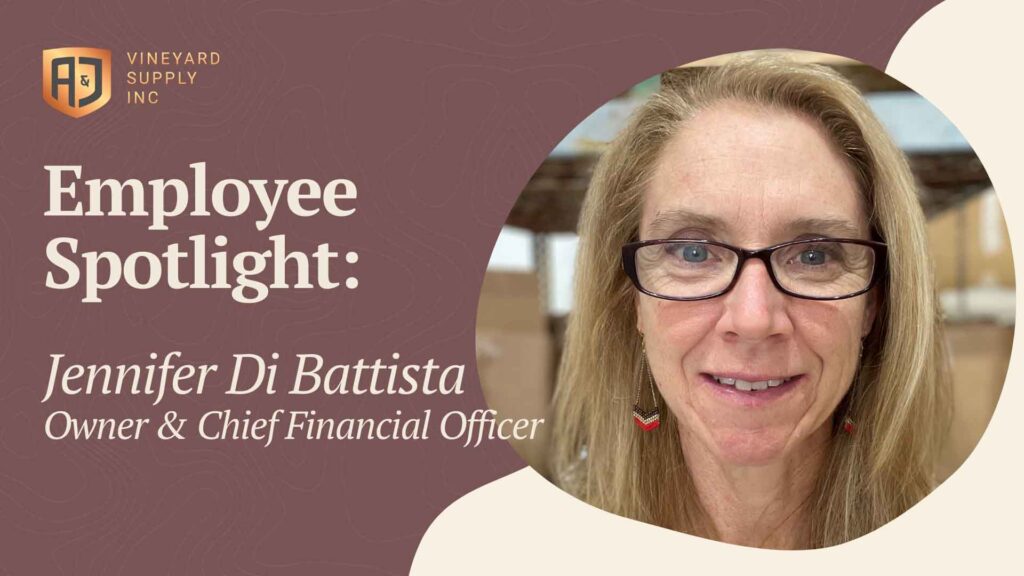 A&J Vineyard Supply's Employee Spotlight series highlights a different employee every month, offering an inside look into our company culture and the individuals that make our team the best in the business. This month, meet Jennifer Di Battista, an Owner and Chief Financial Officer at A&J Vineyard Supply!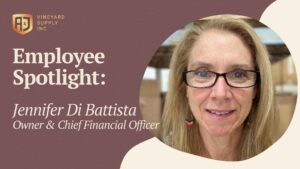 Name: Jennifer Di Battista

Role at A&J: Owner and Chief Financial Officer

How long have you been working at A&J? Since inception – May 1, 2002
Q: What's your favorite thing/activity to do in the Napa Valley?
"I really like being outdoors so I appreciate the mild weather, beautiful scenery, and all of the opportunities to bike, hike, and play."
Q: What's the most interesting trip you've ever taken? When?
"In 2006 we were invited to an Indian wedding that started in Singapore and ended in North-Eastern India. Not only were those two countries incredibly interesting but the customs and colors and hospitality that we experienced were unforgettable."
Q: If you could recommend one vineyard tool or product, what would it be and why?
"I guess the Machete is one of my favorite of the newer tools that we carry. It makes manual leaf trimming very efficient, especially when you have vigorous vines. Plus it makes you look like a ninja." 😉

Q: What do you like best about working for A&J Vineyard Supply?
"We have a team that feels like family and customers that are like old friends. I also really like the mix of cultures and languages that are part of daily business."
Q: What's a work-related accomplishment that you're really proud of?
"We've been in business for almost 20 years now and have reached many milestones, but our customer service is one of the things I'm most proud of. Everyone here really goes out of their way to be helpful and treat every customer with respect and importance, regardless of the size of their order.
Q: What's the best advice you were ever given in your life? Who was it from?
"Be on time (aka early)! As a kid, I was a procrastinator but my Dad never let us be late for anything. Now as an adult I realize how important it is and how it's really the ultimate sign of respect to the person or group you're showing up for. It's a recognition of the time and effort they've put into being ready for your arrival."
Q: Who is your favorite soccer team? Who do you think is the best player of all time?

"I don't really have a favorite, although now that our sons are playing competitive soccer at a higher level I'm becoming more familiar with the European leagues like Premier League, Serie A, La Liga, etc. It's really exciting to see quite a few Americans starting to play in those leagues. I am competitive by nature so I'm happy to watch any game that's a good match-up."