Vineyard Pruning 101: Tips and Pruning Tools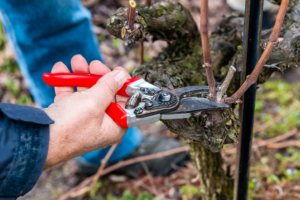 Pruning is one of the most important post-harvest maintenance projects in the vineyard. Generally performed in late winter/early spring while the vines are dormant, pruning allows for the selection of canes 1) to produce fruitful shoots in the coming season and 2) to produce healthy shoots from which a good fruiting cane can be selected in the next dormant season. So basically, each year of pruning sets the stage for the next two years of harvest. A well-pruned, well-balanced vine impacts both the quantity and quality of the fruit.
Must-Have Pruning Tools
As with any important job, having the right tools can mean the difference between failure and success. A high-quality pruning shear is a viticulturalist's best friend. To help you choose a tool that's right—not only for the job but also for your hand—we'll outline a few of the most popular styles and brands, as well as highlight some of the important features of each pruning.
One of the first considerations to make is the type of cut that you want and whether the plant material that you need to prune is old, dry wood, or fresh, new shoots. Bypass pruners are like scissors where the top, larger blade passes by the lower, smaller blade. They are recommended for live or recently dried branches and allow the user to make a nice, clean-cut with no damage to the plant. Anvil pruners have one top blade that comes down directly on top of the bottom blade, essentially cutting and smashing the contents between them. This type of pruner is most effective for old, dead branches and canes.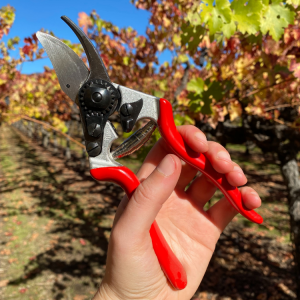 Are you a leftie? No worries! Most commercial brands carry a left-handed version of their most popular pruning shear styles. Matching the size of the pruner to the size of your hand is also important, especially if you'll be making hundreds or even thousands of cuts in a season. Trying to squeeze together bulky handles with short fingers or manipulate a small shear with line-backer hands can add a level of frustration (and pain!) you just don't need. When shopping for a pruning shear, ask if you can hold it in your own hand and make several "cuts" in the air to ensure that the size and shape of the handles are comfortable. You might also consider a pruning shear with a rotating handle which allows the fingers to move naturally and reduces hand fatigue and blisters.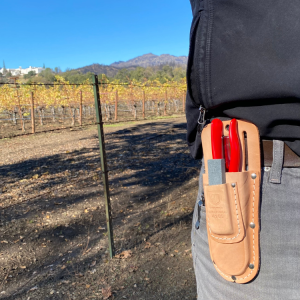 While certainly an essential investment, a commercial-quality shear or lopper comes with a commercial-quality price tag, so it's imperative that you prolong the life of your pruning tool with proper maintenance and storage. Most high-quality pruning brands come with a selection of lower-cost replacement parts such as blades, bumpers, and springs, which can keep a pruning tool performing optimally for several seasons. A compatible holster is also a worthwhile addition to your pruning tool kit. A misplaced shear can be a frustrating loss of time and money, so getting in the habit of storing your shear in a holster while not in use keeps your tool protected and quickly available for the next task. Some holsters even have a handy extra pocket to keep a sharpening stone at the ready. 
Pruning Shear Brands We Stand By
FELCO – Swiss-made since 1946, FELCO is a global, professional pruning brand that has continuously been a top choice for Napa Valley grape growers. With its great hand-feel and exceptional cut quality, it's by far the best-selling pruning line we carry. With many sizes, styles, and accessories, there is a Felco shear for everyone. Most requested among vineyard crews is the Felco 12, with a rotating handle and ergonomic design that reduces the cutting force required by 30%. 
LOWE – In 1923, Lowe company founder Walther Schroder developed the first anvil pruner in the world. Today, Original Lowe shears are still manufactured in Germany to the highest standards of quality. Relatively new to the Napa Valley scene, these pruning shears are quickly gaining a loyal following due to their precise cutting ability. 
Other Important Pruning & Cutting Tools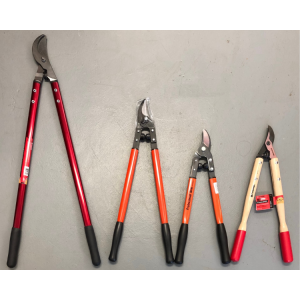 Other pruning and cutting tools in stock at A&J Vineyard Supply include loppers with 20", 24" or 30" long aluminum handles as well as the classic wood-handle version.  We also carry folding hand saws with hard-point teeth for faster cutting of thicker green branches. Finally, a shearing knife can also come in handy for clearing thicker brushes or branches that require a razor-sharp edge. Logo holsters are available for most of the pruning tools we carry including shears, loppers, saws, and shearing knives, as well as replacement parts and maintenance products such as 3-in-1 oil and sharpening stones, and other blade sharpeners.
A&J Vineyard Supply Can Help
With pruning season right around the corner, now is the time to take stock of what you already have for this task and make a list of the pruning tools you'll need to buy to ensure that this year's pruning is as efficient and precise as possible. Given the current supply pressures which are significantly affecting delivery dates and availability, at A&J Vineyard Supply we ordered early and are already fully stocked for the 21/22 pruning season. Get your crews a jump on the season as well by coming in now with your list! Need to place an order? Contact us here or give us a call at 707-963-5354.